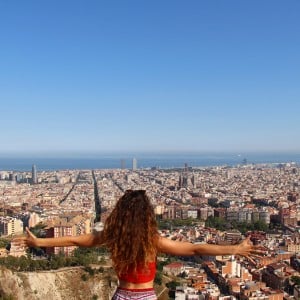 Alessia
The best way to enjoy Barcelona as a local
English, Spanish, Italian, 中文
Explore Barcelona with Alessia
Alessia is a local guide who is very passionate about Barcelona. Tell Alessia what you want to discover and experience Barcelona like never before!
What's included?



Free cancellation up to 7 days before the tour

About Alessia
I am a very passionate and dynamic girl from Italy living in Barcelona. I fell in love with the city few years ago during my Erasmus and decided to move here as soon as I finished my studies. I love travelling, meeting new people from different cultures, enjoying good food and speaking foreign languages. I love wandering around the city discovering new spots and hidden curiosities and I enjoy it even more if I could share it with someone looking to explore the city.
Insider tips from Alessia
1
What's your favorite neighborhood in your city?
I would love to show you my favourite places telling you about great stories and anecdotes not many people know. I am completely open to discuss the tour, adjusting it to your interests. Let's create together great memories of Barcelona! I am looking forward to guide you across my wonderful city while getting to know more each other (and Barcelona of course). I am sure that exploring the city together will make you love this city as much as I do! One of my passions is photography and I would also love to help you remember our tour with great pictures. In addition to it, I am also available to help you with the best tips not only about the city and its restaurants & bars & nightlife, but also its surroundings (Costa Brava, Montserrat, Girona …)
2
What do you like most about your city?
What do you like most about the city I love the fact that it's a multicultural and dynamic city. You never stop to discover new incredibles places and hidden trasures to really enjoy the city as a local. We can walk everywhere wandering across the different beautiful barrios, to breathe the great positive and historical vibes the city transmits!