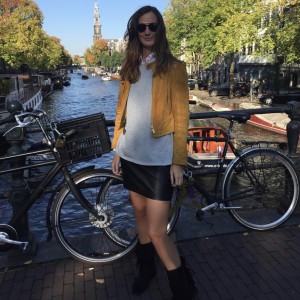 Mandy
Photoguide with nice camera
Explore Amsterdam with Mandy
Mandy is a local guide who is very passionate about Amsterdam. Tell Mandy what you want to discover and experience Amsterdam like never before!
What's included?



Free cancellation up to 7 days before the tour

About Mandy
Have professional cool Insta pics taken at best spots, different tours available! I can make good pictures of you with a good snapshot camera. (I did a course at Amsterdam Photo Academy) Photo tour South (2 hours) Albert Cuyp Market - Museum Square - Wake me up when I am famous bench - Sarphati park - Heineken square Photo tour canals / 9 streets (2 hours) Western tower - canals - famous Dutch apple pie place - cheese shop - Ann Frank I love Dutch food tour + photo Poffertjes - haring - kibbeling - stroopwafels - drop - cheese - zuurkool - febo Eat & try some foods at best local places and learn about thier history. Take some foods with you as it is to much to eat. Upon request, I can create a tour for your group and come up with inspiring things that match your interests!
Insider tips from Mandy
1
What do you like most about your city?
What I love most about Amsterdam is the romantic view of the canals and the creative energy of the city.
2
Where do you get the best views of the city?
At different rooftop bars or restaurants (Blue, skybar, Okura Hotel) you have an amazing view over the city. In North there is also a tower called Adam tower that has a great view over the city. In the summer these views are especially nice during the sunset.