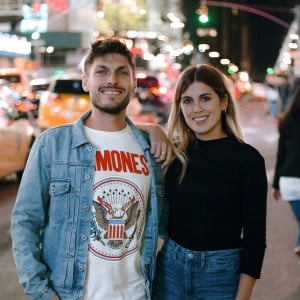 Noe and Joaco
Contrast guide with professional photography
Explore Barcelona with Noe and Joaco
We offer a different tour. Around 2 hs where you will visit some spots of Barcelona, learn secrets, history and taste some tipical products. And in addition you will take with you 10 professional photographies. We will visit gothic, raval, born and barceloneta. But this is not a conventional tour. As you will learn also about social contrasts and culture with proffesional photographers and filmmakers. Join us? ---- Ofrecemos un tour diferente. Alrededor de dos horas donde visitaran sitios mágicos, aprenderán secretos, historia y probaremos algunos productos típicos. Se llevarán 10 fotos (mínimo) profesionales. Caminaremos por el Gótico, Raval, Born y terminaremos en Barceloneta. Pero no es un paseo convencional. Aprenderán también de los contrastes sociales, la cultura y todo esto acompañados de fotógrafos profesionales. Nos acompañan? Al finalizar la guía recomendamos los lugares imperdibles a visitar fuera del centro y lugares donde comer los mejores platos catalanes.
What's included?



Free cancellation up to 7 days before the tour
About Noe and Joaco
We are Noel and Joaquin, we are photographers and filmmakers and we love to make people smile. 5 years ago we discovered the city and since then we have been making photos of each corner of this amazing city. ---- Somos Joaquin y Noel , somos fotógrafos y cineastas profesionales y amamos hacer reír a la gente. 5 años atrás descubrimos la ciudad y desde allí fotografiamos cada rincón de "barna".
Insider tips from Noe and Joaco
1
What is your favorite local dish?
Calçots con salsa romesco. Paella. Arroz negro. Patatas Bravas. Pan con tomate. Pollo asado a la catalana. Crema catalana.
2
What's the most instagrammable place in your city?
LA CASA DE LAS PLANTAS Calle de L'Allada-Vermell, 12 Las calles del Raval - Gótico y Barceloneta.