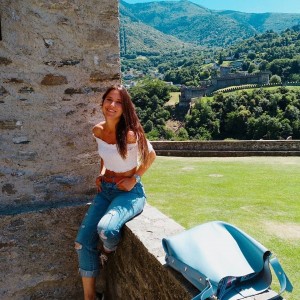 Nathalia
An authentic local tour made for lovers of fun & interesting tourism.
Explore Barcelona with Nathalia
I will show you the most genuine and curious spots in Barcelona and it's surroundings. I will take you to the most authentic, artistic, innovative and sophisticated places from here, making you taste the best of Barcelona treasures. The tour can be in English or Spanish, (however, you prefer). I will give you different tour options and you can choose with the opportunity of having the flexibility to add, remove or adapt the tour to your own desires and necessities. These tours are designed for people who love to explore, learn about local, and have fun!
What's included?



Free cancellation up to 7 days before the tour
About Nathalia
Hello! I am Nathalia Ocampo, a Colombian that believes in world traveling, playfulness and loving perceptions! I am passionate about exploring, discovering, and sharing experiences. In fact, I consider myself a connoisseur with a continuous learning attitude, always looking forward to learning about gastronomy, art, and curious facts of the city culture and atmosphere, and sharing all that I learn makes me happy. My ability to open to new people and circumstances and my bachelor in communication and public relations at Barcelona had taught me how to deal, understand and lead people from all around the world. My priority will be your happiness during the tour.