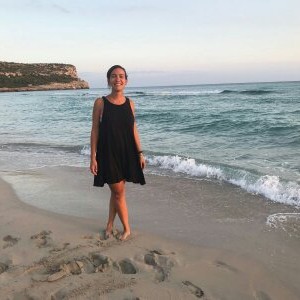 Esperanza
Living in Barcelona for the last 7 years working in a cultural magazine.
Explore Barcelona with Esperanza
What can you expect: I've been working mostly for a cultural and local magazine, covering the cultural and gastro scene. So if you're interested in tasting the best Spanish and Catalan food and/or discover the secrets of the cultural side of the city, I'm your perfect guide!
What's included?



Free cancellation up to 7 days before the tour

About Esperanza
I'm a freelance journalist working at a cultural athenaeum. I love to stay connected with this city and everything happening in there, as new tendences and hotspots.
Insider tips from Esperanza
1
What is your favorite local dish?
Patatas bravas, ensaladilla rusa, pan con tomate, romesco con verduras, tortilla de patatas, fideuá, paella de marisco... tapas are a basic and the best way to get to know local culture and people.
2
What is your favorite local drink?
Catalunya is famous for its wine coming from different places: red from Priorat, white from Penedés and specially, cava! There are also local craft beers. And if you're not into alcoholic drinks, there's local sparkling water you'd like to take with yourself back home!